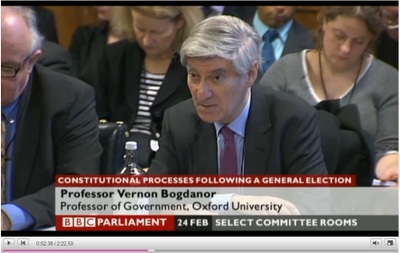 On 24th February 2010 this
select committee
heard fascinating evidence from a series of
civil servants
and academics on the likely twists and turns leading to government formation in the event of a
hung parliament
. Some questions remained unanswered (or even unasked) but one remarkable exchange at the beginning of the tape suggested that the Meeting of
Parliament
and the
Queen's Speech
could be postponed by proclamation - implying that a "defeated" PM could remain in office for a considerable period of time without facing any parliamentary test...
Altogether a remarkable insight into how seriously the Establishment is taking the prospect of a hung parliament, and how their priorities are:
i) the continuance of effective government in a time of uncertainty
ii) the protection of the Queen from controversy
iii) an attempt to codify the rules of the game of party political poker that would ensue.
Note that the wishes of the voters do not feature on this list. They would be deemed to have produced an indecisive result, and their further opinions would be considered redundant. The Establishment would facilitate the installation of any viable government.